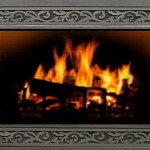 The Black­smith Col­lec­tion com­bines time­less, old-world design with mod­ern pre­ci­sion.
Read more…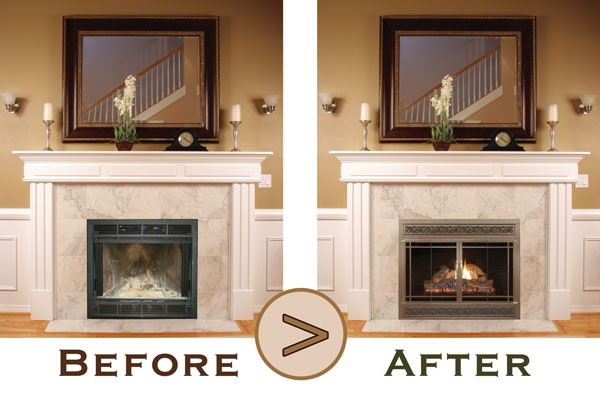 Every Stoll door is unique; engi­neered to com­pletely cover your wood or gas man­u­fac­tured fire­place by custom-sizing the frame and the lou­vers to fit per­fectly.
Read more…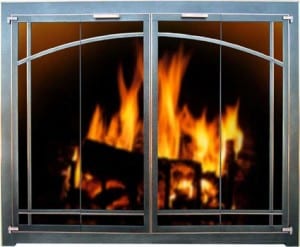 The Tra­di­tional Iron Col­lec­tion offers a heavy chan­nel iron main frame pro­vid­ing addi­tional depth and tex­ture.  Con­structed of 2" wide x 1" deep chan­nel iron, these doors are ruggedly hand­some when com­bined with your choice of long last­ing, scratch resis­tant pow­der coat fin­ishes.  The Tra­di­tional Iron Col­lec­tion rep­re­sents the indus­try stan­dard for strength and durability.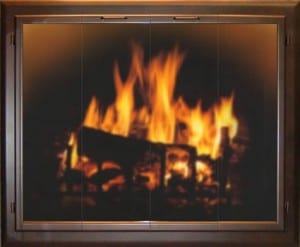 The hearth is surely the heart of the home but today the hearth is just as likely to be out­side and these doors are a great way to frame your out­door fire­place.  Clas­sic molded con­tours and mitered cor­ners cre­ate the per­fect frame for your fire­place. The main frame and door frames are con­structed of thick alu­minum extru­sions made to Stoll's spec­i­fi­ca­tions which cre­ates excep­tional strength, dura­bil­ity, and weather resistance.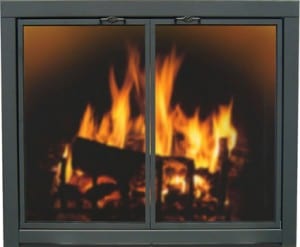 Stoll offers three mesh door options. Each pro­vides supreme pro­tec­tion from errant fire­place sparks.  If hear­ing a crack­ling fire is your pref­er­ence, the Mesh Door Col­lec­tion is what you've been look­ing for. Mesh doors replace glass with heavy mesh pan­els, fea­tur­ing 5/8" x 1/4" steel door frames which enlose the solid mesh pan­els for easy work­ing and long last­ing doors.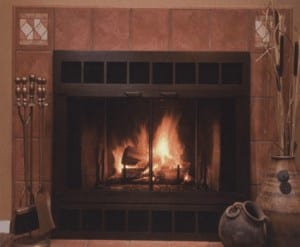 Finally, there is an easy way to update the look of your exist­ing wood fire­place. Add style and warmth to your fire­place with Full Face Glass Doors.  With unique designs and sev­eral pow­der­coat fin­ish choices, you can trans­form your gas fire­place into the focal point of your home. Full Face Glass Doors fit most man­u­fac­tur­ers' fire­places and they are made in the USA.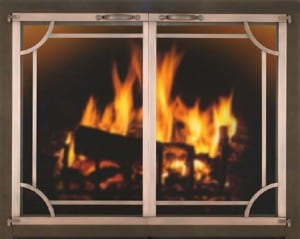 The pre­mium Bar Iron col­lec­tion takes crafts­man­ship and design to a new level.
Main frames and/or door frames can be elec­tro­plated in the fin­ish of your choice. The result is a seam­less fin­ish in brass, cop­per, or nickel with the low main­te­nance qual­i­ties and strength of steel.
The Total view Col­lec­tion is uniquely designed with frame­less glass doors to max­i­mize the fire view.  The clean, unadorned design can range from dra­mat­i­cally con­tem­po­rary to clas­sic with dis­creet hard­ware accents. Let your imag­i­na­tion and your indi­vid­ual sense of style be your guide. Avail­able in Tra­di­tional, Tra­di­tional Iron And Pre­mium Bar Iron frames. Clean and simple.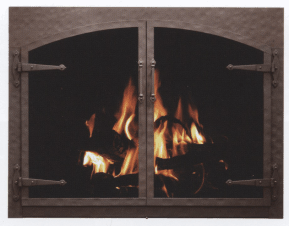 The unique fea­ture of this door is that it cre­ates the illu­sion of an arch fire­place door in a rec­tan­gu­lar masonry fire­place open­ing.  Con­vert­ing a rec­tan­gle fire­place open­ing to an arched open­ing is not an easy endeavor, unless you install an Arch Con­ver­sion fire­place door. The main frame of an Arch Con­ver­sion door is rec­tan­glu­lar in shape, and fits out­side (Over­lap Fit) or inside (Inside Fit) a rec­tan­gu­lar fire­place open­ing. Then the glass and frame of the hinged door are in an arch shape, mak­ing the fire vis­i­ble through an arched opening.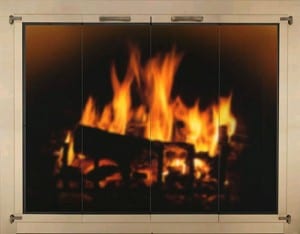 Glass doors are framed with 1" x 3/16" steel that can be fin­ished to match or con­trast the main frame. Doors are avail­able in Cab­i­net or Bifold style; fully framed or with the cen­ter left clear.  The highly pop­u­lar Tra­di­tional col­lec­tion com­bines qual­ity con­struc­tion, excel­lent per­for­mance, and excep­tional value. The frames and coat fin­ishes and/or 8 solid brass over­lay fin­ishes are pre­cisely fit­ted around the com­po­nents. Hun­dreds of com­bi­na­tions are pos­si­ble to com­ple­ment your decor.