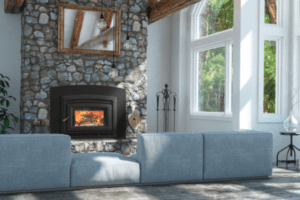 The Green Mountain Insert 70 8450 has been designed to fit flush with your hearth. It has a clean yet traditional style that compliments many styles of home decor.
Hearthstone's amazing burn quality features the most remarkable flames in the industry, and the glass stays incredibly clean. You'll be mezmerized by your Green Mountain insert's beautiful flames all winter long!
Burn up to 20 inch logs in the soapstone lined firebox. Soapstone retains the maximum heat from you fire and radiates steady warmth as your insert burns.
This non-catalytic wood insert is easy to use. A single lever air control lets you burn hot and fast or low and slow to keep warm through the night.
The GMi 70 burns up to 70,000 BTUs and heats up to 2,000 square feet. The GMi 70 has 69% HHV efficiency and produces up to 10 hours of heat from a single load of wood.
New 2020 EPA regulations require wood burning heaters to emit less than 2 grams/hour of soot. The EPA certified GMi 70 is a clean burning wood insert, with only 1.54 g/hr of particulate emissions.