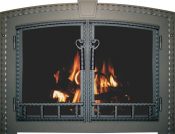 The Blacksmith Collection combines timeless, old-world design with modern precision.
Read more…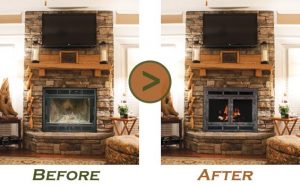 Every Stoll fireplace door is unique; engineered to completely cover your wood or gas manufactured fireplace by custom-sizing the frame and the louvers to fit perfectly.
Read more…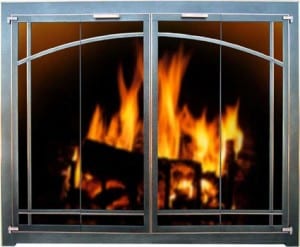 These Stoll fireplace glass doors in the Traditional Iron Collection offers a heavy channel iron main frame providing additional depth and texture. Constructed of 2" wide x 1" deep channel iron, these decorative fireplace glass doors are ruggedly handsome when combined with your choice of long lasting, scratch resistant powder coat finishes. The Traditional Iron Collection represents the industry standard for strength and durability.
The hearth is surely the heart of the home but today the hearth is just as likely to be outside and these doors are a great way to frame your outdoor fireplace.  Classic molded contours and mitered corners create the perfect frame for your fireplace. The main frame and door frames are constructed of thick aluminum extrusions made to Stoll's specifications which creates exceptional strength, durability, and weather resistance.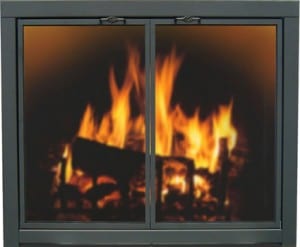 Stoll offers three mesh door options. Each provides supreme protection from errant fireplace sparks.  If hearing a crackling fire is your preference, the Mesh Door Collection is what you've been looking for. Mesh doors replace glass with heavy mesh panels, featuring 5/8" x 1/4" steel door frames which enlose the solid mesh panels for easy working and long lasting doors.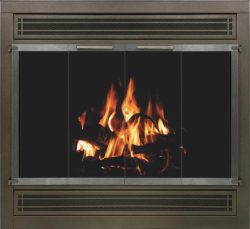 Finally, there is an easy way to update the look of your existing wood fireplace. Add style and warmth to your fireplace with Full Face Glass Doors.  With unique designs and several powdercoated finish choices, you can transform your gas fireplace into the focal point of your home. Full Face Glass Doors fit most manufacturers' fireplaces and they are made in the USA.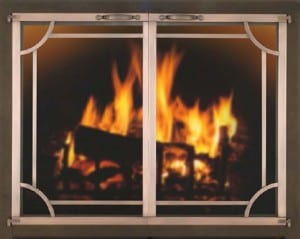 The premium Bar Iron collection takes craftsmanship and design to a new level.
Main frames and/or door frames can be electroplated in the finish of your choice. The result is a seamless finish in brass, copper, or nickel with the low maintenance qualities and strength of steel.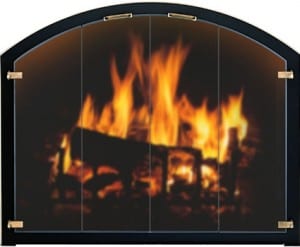 The Total view Collection is uniquely designed with frameless glass doors to maximize the fire view.  The clean, unadorned design can range from dramatically contemporary to classic with discreet hardware accents. Let your imagination and your individual sense of style be your guide. Available in Traditional, Traditional Iron And Premium Bar Iron frames. Clean and simple.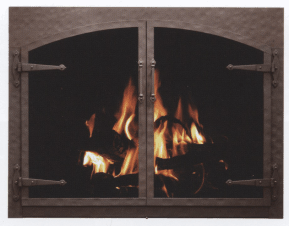 The unique feature of this door is that it creates the illusion of an arch fireplace door in a rectangular masonry fireplace opening.  Converting a rectangle fireplace opening to an arched opening is not an easy endeavor, unless you install an Arch Conversion fireplace door. The main frame of an Arch Conversion door is rectanglular in shape, and fits outside (Overlap Fit) or inside (Inside Fit) a rectangular fireplace opening. Then the glass and frame of the hinged door are in an arch shape, making the fire visible through an arched opening.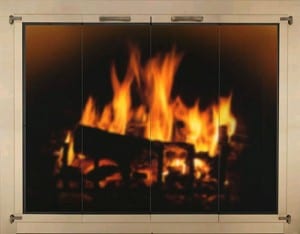 Glass doors are framed with 1" x 3/16" steel that can be finished to match or contrast the main frame. Doors are available in Cabinet or Bifold style; fully framed or with the center left clear.  The highly popular Traditional collection combines quality construction, excellent performance, and exceptional value. The frames and coat finishes and/or 8 solid brass overlay finishes are precisely fitted around the components. Hundreds of combinations are possible to complement your decor.