Hearthstone Craftsbury 8392 Wood Stove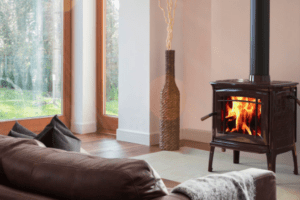 The Hearthstone Craftsbury 8392 wood stove is a compact and efficient wood heater that will keep your home warm and make the most of your wood pile.
Hearthstone's amazing burn quality features the most remarkable flames in the industry, and the glass stays incredibly clean. You'll be mezmerized by your Craftsbury wood stove's beautiful flames all winter long!
The Craftsbury burns up to 40,000 BTUs and heats up to 1,400 square feet. It has 79% HHV efficiency and produces up to 20 hours of heat from a single load of wood.
New 2020 EPA regulations require wood burning heaters to emit less than 2 grams/hour of soot. The EPA certified Craftsbury is a clean burning stove thanks to the TruHybrid™ Clean system, with only 1.07 g/hr of particulate emissions.
The Craftsbury is constructed of high-quality cast iron parts and finished with beautiful porcelain enamel providing comfortable, long-lasting heat and a lifetime of trouble-free service.