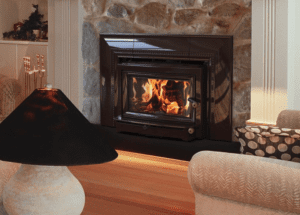 The Hearthstone Clydesdale wood insert is clean-burning, highly efficient, and easy to operate. The Clydesdale uses Hearthstone's TruHybrid™ technology. Engage the catalyst and turn your stove down for slow and efficient overnight burns.
The Clydesdale's has a large open window so you can see as much fire as possible. Enjoy the ambiance of a fireplace and the efficiency of HearthStone.
You can burn up to 24 inch logs in the soapstone lined firebox. Soapstone retains the maximum heat from your fire and radiates steady warmth as your insert burns.
Burning at up to 60,000 BTUs and warming up to 2,000 square feet, the Clydesdale also heats up to 24 hours from a single load of wood. It has up to 79% efficiency and is EPA certified for clean burning.