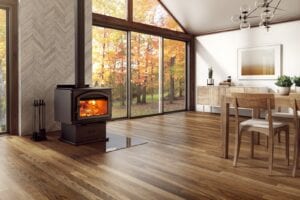 The Enerzone Solution 3.5 combines refinement and performance for a personalized use and an ever-more accessible heating experience.
This very large non-catalytic unit features sleek, elegant lines: slightly curved top, side panels with delicate engraved grooves and less massive arched iron door leaving plenty of room for the movements of the flames.
The Solution 3.5 burns up to 110,000 BTUs and heats up to 2,700 square feet. The Solution 3.5 has 71% HHV efficiency and produces up to 10 hours of heat from a single load of wood.
New 2020 EPA regulations require wood burning heaters to emit less than 2 grams/hour of soot. The EPA certified Solution 3.5 is a clean burning wood insert, with only 1.32 g/hr of particulate emissions.