Heritage Series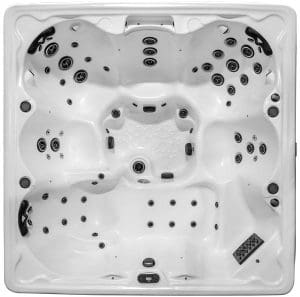 Viking Spas was founded in the early 1970's. Their primary goal was to build one hot tub and do it really well. Viking Spas is now a third-generation, family-run business. On top of that, these amazing spas are made right here in Michigan!
The Heritage 2 is 92×92″ and seats up to 6 with 71 jets. The Heritage series is Viking Spas' largest lounger hot tub. From the powerful Volcano floor jet to the neck jets in the two spacious captains share, this model is the ultimate in head-to-toe hydrotherapy.
Select from a range of cabinet and shell colors to create the perfect spa for you!