Legacy Series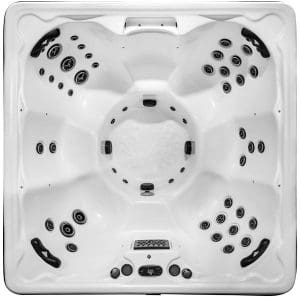 Viking Spas was founded in the early 1970's. Their primary goal was to build one hot tub and do it really well. Viking Spas is now a third-generation, family-run business. On top of that, these amazing spas are made right here in Michigan!
The Viking Spas Legacy 2 is 86×86″ and seats up to 7 with 51 jets. Barrier free seating allows you to move easily from each to seat so that you can take advantage of everything the Legacy open-seated model has to offer. It features two roomy captain seats with generous jetting throughout and calf jets in all four corner seats.
Select from a range of cabinet and shell colors to create the perfect spa for you!